Television
Christophe Willem sick: the singer, expected on the Star Academy bonus, confides his anxiety
Christophe Willem sick: the singer, expected on the Star Academy bonus, confides his anxiety
Saturday, November 5, the star academy is back on TF1 with the fourth bonus of the season. While he must perform on stage with the students, Christophe Willem announced that he was suffering from tracheitis.
An unexpected event that could change everything. Saturday, November 5, the students of the star academy will once again share the stage with several artists during the fourth prime of the season. After the elimination of Amisse, then that of Cenzo and Ahcène last weekthere are only ten left to claim victory: Anisha, Carla, Chris, Enola, Julien, Léa, Louis, Paola, Stanislas and Tiana. This week, the academicians were surprised to learn that their destinies were linked. Indeed, unlike previous evaluations, they were judged in pairs. At the end of the dance and singing tests, it is the duets Carla / Paola and Lea/Tiana who have been named. A decision "which was played with few things"clarified Michael Goldman, director of Star Academy. At the end of the evening, two candidates will definitively leave the castle of Dammarie-lès-Lys.
Christophe Willem announces that he is sick on the day of the bonus
During this prime broadcast on TF1as tradition dictates, students will have the chance to share the stage with prestigious French artists: Christopher WillemLouise Attack, Apple, Elodie Frege, Camille Lellouche and Slimane, who recently visited the academicians. But a few hours from the show, Christophe Willem, who must sing his song ps: i love you with Stanislas, said he was very ill. "Live my life: Carabineer tracheitis the day I go to Star Academy"lamented the singer discovered in the New star. "I count on your indulgence"he added in his Instagram story. A blow for the artist who was delighted at the idea of ​​performing on the stage of the star academy. Despite this unforeseen event, Christophe Willem does not intend to let go: "See you tonight on TF1 for the Star Academy. Even sick, I don't let go because I want to support Stanislas as best I can for his first performance with an artist"he said on Twitter. A nice gesture from the singer.
Test your knowledge of the Star Academy and win a stay with Homair Vacances or a disco party game box with Hugo Image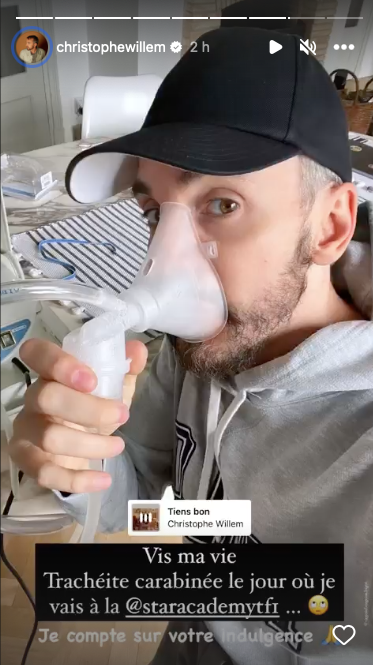 #Christophe #Willem #sick #singer #expected #Star #Academy #bonus #confides #anxiety