"We have always had a separate room"
In his autobiography "The Color of Ghosts", published by Talent Editions on October 26, Jean-Jacques Debout recounts those who counted in his life. The friend of the stars – and husband of Chantal Goya – gave himself up to Paris Match.
You have just released your autobiography, "The Color of Ghosts". Who are these ghosts?
Jean-Jacques Debout. The ghosts are the artists, all the people I've met since my debut in 1959 as a singer, songwriter, director. There are the ghosts that I regret, those that I don't regret so much, those that made me laugh and with whom I was very good friends. There's a whole bunch of ghosts because you know, I'm 82 and I've met a lot of them. I have had several lives.
It was a publisher who came to see me when I was in my house in the countryside, not far from the town of Loches. He said to me, "Why don't you write a book about your life?" But I'm one of those people who don't like to make money from their memories. Memories are personal. He insisted, he called me every day. And then one day it clicked.
Is it also a way for you to say goodbye?
A little. We never say goodbye. One day life is going to stop and she doesn't ask your opinion. I still write, I still make film music, I haven't stopped my activities.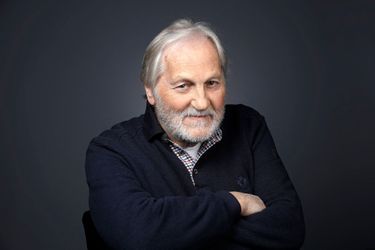 You write: "Many of my songs became hits, but some flopped. However, I do not deny anything because I have always learned. What have you learned from these failures?
Quite honestly, I have more that didn't work. It turns out that I was lucky to have been called by Maritie and Gilbert Carpentier. Maritie gave me a lot of songs that didn't go on records. They were songs to shoot scenes for television. I wrote 1200 songs and some were never recorded. And today, the Carpentiers are cited as an example. A lot of TV producers buy footage so I see a lot of my songs that are on TV.
And then there are the ones I wrote for records. For example, I wrote for Sylvie Vartan "Comme un enfant" which has been around the world or for Johnny "For me life will begin" for his first film or for one of the first manga called "Capitaine Flam" . This song also went around the world. There are songs that I wrote that became hits, I don't regret it because that's what allowed me to live, but there are also songs that are not hits but I don't regret them either because it gives me joy to see them in pictures.
Josephine Baker's very last song
"You have to work when you write a song, when you record it, etc. The rest is fortuitous […]. It all happened by pure chance." Is the success of your career due to chance?
In part. I still believe in coincidences. I experienced a lot of things that seemed to be random and which finally took me into completely unexpected spheres for me. I didn't think that one day I would be given carte blanche for the Palais des Congrès where Roland Hubert, Chantal's producer – whom I always called Marie-Rose, that's the first name I gave her in the shows – told me: "Chantal now has an audience, you have carte blanche." Through Chantal, I wanted the parents not to be bored and the children to be happy.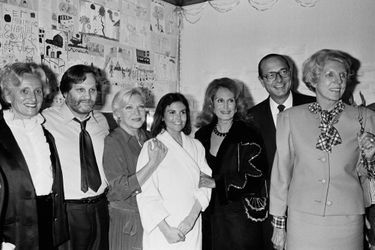 When you were five years old, Josephine Baker said to you: "One day, you will be a great artist my boy." What did the very young Jean-Jacques Debout think when he heard these words?
It moved me. Joséphine Baker was singing on a beach in Saint-Aignan-sur-Cher. She fascinated me because I especially liked artists who made music hall. She was singing a song that went "Who wants my bouquet of violets?". She had her bouquet in her hand and she came down into the room with her microphone and that's where she gave me her bouquet of violets. She asked me my name then said: "With a name like that, you will go very far! You will be a great artist!"
And when Grace Kelly financed her last farewell review at Bobino, Jean-Claude Brialy who directed it called me. He knew she hugged me when I was little and asked me for a song. I wrote him his last song "Goodbye but not goodbye". She sang it eight days. So I'm the last person who wrote him the last song of his life. I do not hide that it moves me a lot.
You appear in the photo of the century taken by Jean-Marie Périer with the band of yé-yé in 1966. Can you tell us about the atmosphere that reigned at that time?
I knew Jean-Marie who told me: "I'm going to take a picture with all the artists of the French songs for" Hello friends "." I remember that he had ladders installed at the Studio des acacias and he made the artists climb up there to place them. At the time, I had just met Chantal Goya. Jean-Marie thought she was cute and as there was a hole because there was a singer who couldn't come, he said to me: "Do you mind if I place your friend there?" And that's how she appears in the photo, when in reality no one knew who she was…
You devote only one chapter to Chantal Goya, like the others…
I think I have said everything about Chantal. I still wrote her ten shows and I say all the good things I think of her. But Chantal is also one of the ghosts. I can spend a month where I hardly see her. She's always on tour, always gone. Besides, I call her my ghost wife.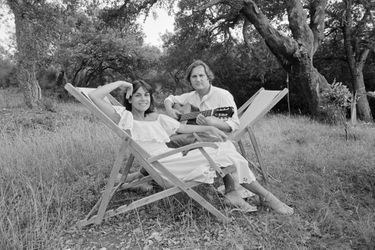 With Chantal Goya, you form a couple of artists with an incredible longevity. What's your secret?
We are not always together. We don't live on top of each other. We never argued. We've always had a separate room because I make my music in my room at night, I'm an insomniac. It must have saved something. And then time passed like this…
What song would you recommend listening to someone who doesn't know you?
"The Flying Shoe". This song sums up the vision I have of Chantal. When all the children in the room start singing and raise their hands to the sky like her, I find that there is something very moving.
Johnny, a bitter end of friendship
Since the release of your book, one passage in particular has made noise: the one in which you wonder how Johnny Hallyday managed to support his wife Laeticia…
I have absolutely nothing against Laeticia. I just noticed that she had taken him away from his first friends. I wrote his first songs to him, I still counted in his life, it was he who told me, it was not me who invented it. Me, it hurt me, not for her, I don't owe her anything, but it hurt me not to see Johnny anymore. More time passed and I no longer saw him. I saw him by chance, at the restaurant, so he sat down at the table straight away, we talked about the past, we talked about this and that.
Where do these disagreements come from?
I spoke with Johnny who explained to me that he was going to set up a nightclub in a parking lot in front of the Montparnasse station on an idea from Laeticia's father. I said to Johnny: "I don't think it's a good idea for you, you have your career, you already have to take care of choosing your repertoire, you have tours that are tiring. It's okay if you weren't Johnny Hallyday but you're a huge artist. What are you going to bother having people you don't know and shaking their hands?" Unfortunately, I said that in front of her and I understood that she didn't like it.
I wasn't doing it on purpose. I was sincere with Johnny. It was mainly to him that I spoke.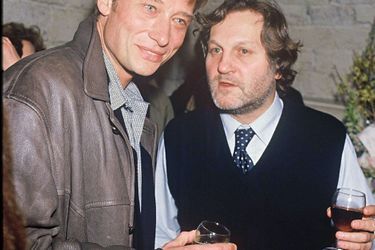 During this same discussion, he said to me: "I am going to leave my Universal record company because Laeticia's father told me that I must have been robbed. If I do an audit with a lawsuit, I can win between 3 and 5 billion in damages. But I knew Pascal Nègre, the president of Universal, I knew everything he had done for Johnny. If there's anyone who couldn't complain about Universal, it's Johnny. She had taken it very, very badly. So for her, I was the obstacle to going around in circles. I was well aware that she was saying to herself: "Fortunately I prevented Johnny from seeing his old friends because if they were all like Jean-Jacques Debout…"
You talk about others but you, what would you like people to remember about you?
I have given children happiness for three generations. I will be remembered as someone who thought of children, on the one hand because I think that I myself remained an eternal child. That's what my grandmother told me. And that's what I would like to leave. The eternal child.
And now ?
I'm going to sing again all the successes I've had since the 1950s at the Salle Pleyel. Then I'm going on a farewell tour that will last, I hope, ten years.


#separate #room